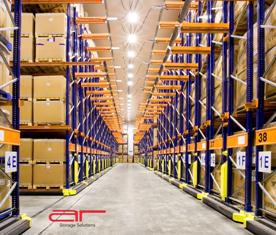 Mobile Pallet Racking can increase capacity by over 100% over the conventional static racks without loss of selectivity. The Mobile Pallet Racking system comprises of individual racks mounted on mobile bases. These bases are power driven, and be controlled using hand held remote controls. Using low maintenance electric motors, the mobile bases run on the rails accurately laid into the floor.
Very popular in high cost environments: i.e Cold Stores due to increased capacity
Good order picking, 100% selectivity
Good floor area utilization
Increased operation efficiency with input output conveyors.
Specialized WMS programme are now available for cold store operations
Average aisle opening time 40 seconds, racks open in cascade movement allowing up to 7-8 double entry racks to be serviced by 1 material handling machine
Full safety features in accordance with FEM and EN Standards.