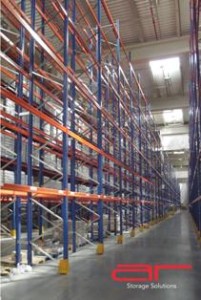 Commonly known as adjustable pallet racking system, this is perhaps the most popular and economical form of pallet racking providing 100% safe selective storage up to 11m in height fully utilizing valuable head space.
Pallet Rack system can be designed to meet virtually any pallet size or weight and can be used in conjunction with all types of lift-trucks. A wide range of accessories is available to accommodate non-standard loads.
Facts about Selective Pallet Racking
Good stock rotation
Good order picking & 100% selectivity
Good product protection
Limited pallet redundancy as the system can run at 95% capacity, with competent Warehouse Management System
Popular application in most industries requiring instant accessibility of all pallets
Low floor area utilization
Mechanical handling equipment

Ride on Stackers
Counter balance / Reach trucks
Reach truck offers up to a 30% improved use of floor space & operates to height in excess of 11m high.